This course is presented as Live Virtual Training. Click for more details.
The ITIL 4 Digital and IT Strategy (DITS) certification is one of the two modules leading to the ITIL Strategic Leader designation.
ITIL DITS focuses on the importance and challenges of creating an appropriate digital strategy to enable the success of businesses and how it can (and should) be integrated to the IT strategy and aligned with the wider organization's goals. It explores the use of ITIL framework to support organizations in their digital transformation journey by providing a structured and flexible approach for addressing service management challenges and utilising the potential of modern technology to get the most value from digital technology. It also adds a new perspective to the ITIL suite and elevates the discussion around ITIL concepts to the very strategic level among companies and business leaders.
ITIL4 Strategic Leader (ITIL SL) is a stream of two modules that are part of ITIL 4, the next evolution of ITIL.
The two modules are:
ITIL 4 Strategist Direct, Plan and Improve
ITIL 4 Leader Digital and IT Strategy
ITIL Strategic Leader recognizes the value of ITIL, not just for IT operations, but for all digitally-enabled services. Becoming an ITIL 4 Strategic Leader demonstrates that the you have a clear understanding of how IT influences and directs business strategy.
To obtain the designation ITIL 4 Managing Professional or ITIL 4 Strategic Leader, you must complete all modules in each stream, with ITIL Strategist Direct, Plan and Improve being a universal module for both streams.
After achieving the ITIL 4 Managing Professional designation, candidates only need to complete the ITIL 4 Leader Digital and IT Strategy module to achieve the ITIL 4 Strategic Leader designation.
You can get a good and quick idea of the new ITIL 4 Certification Scheme in the diagram below. To obtain the ITIL Managing Professional (MP) or ITIL Strategic Leader (SL) designations you must complete all modules in each stream, with ITIL Strategist Direct, Plan and Improve being a common module for both streams.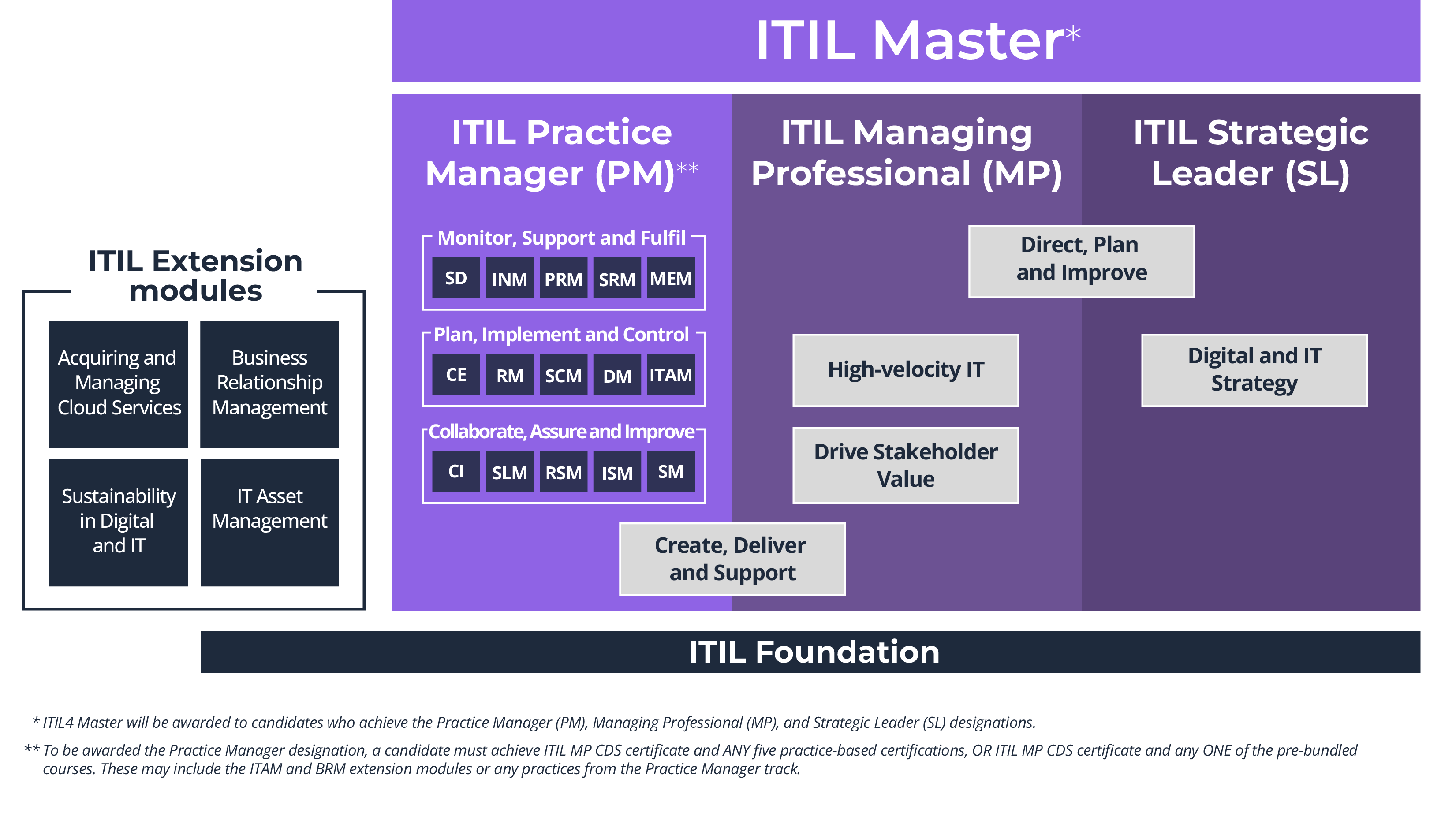 Learning outcomes
Demonstrate the use of the ITIL guiding principles in Digital and IT Strategy decisions and activities
Understand how to leverage digital strategy to react to digital disruption
Understand the relationship between the concepts of Digital and IT Strategy, the service value system and the service value chain, and explain how to utilize them to create value
Understand how an organization uses Digital and IT Strategy to remain viable in environments disrupted by digital technology
Understand strategic approaches made possible by digital and information technology to achieve customer/market relevance and operational excellence
Understand the risks and opportunities of Digital and IT Strategy
Understand the steps and techniques involved in defining and advocating for a Digital and IT Strategy
Understand how to implement a Digital and IT Strategy
Who should attend
This course is designed for anyone wanting to achieve the ITIL 4 Strategic Leader designation:
Strategy managers
Service and product managers
ITIL Practice owners and practitioners
Research and development managers
Technology managers – infrastructure and applications
Pre-requisites
ITIL® 4 Foundation Certificate in IT Service Management OR
ITIL® 4 Managing Professional Transition Certificate
Course contents
Introduction to DITS
Key concepts of DITS
What is the vision? - The future-state picture of

What problems the organisation will solve for consumers
How consumers will interact with the organisation's products and services
What the organisation's people, their skills, and overall structure will look like

Where are we now? – The context of strategy

Environmental analysis
Opportunity analysis
Digital readiness assessment
Strategy assessment

How do we get there?

Strategy cycles and planning horizons
Financial aspects of DITS
Strategic approaches
Customer journeys
Omnichannel delivery and support
Customer approaches
Optimization and automation
Sourcing and workforce strategies
Triple bottom line
Portfolio optimization

Take action! – Managing strategic initiatives

How strategies are implemented
Training and education
Leading digital transformation
Scoping digital transformation
Strategy communication

How do we know we are progressing?

Metrics and measures
Cascading requirements
OKR framework
Measuring progress, performance and relevance
Reporting – operational and analytical

How do we keep the momentum going?

Digital organization viability
Organizational characteristics
Parallel operation

Digital leadership
Managing innovation and emerging technologies

Approach to innovation management
Innovation cultures
Evaluating and adopting emerging technologies

Managing strategic risk
Structuring for digital business
Course fees
Fees per person
ITIL 4  Leader: Digital and IT Strategy Course (3 days) + Certificate Exam
Live Virtual Training Course Fee Includes:
Comprehensive ALC course workbook, quality colour printed - Hard Copy, delivered directly to you
Official Axelos "ITIL® 4 digital and IT Strategy" Textbook - E-copy (Hard Copy available for purchase for an additional fee of $70 + GST)
Official Assignments (4 short assignments of 1 hour each)
Official ITIL 4 digital and IT Strategy certification online exam
There are two stages in the certification:
The first stage is successful completion of 4 short assignments of one hour each that will be highlighted during the course and completed subsequent to the course. These assignments are open book and assessed by the trainer. They require a 75% achievement (30 marks out of 40).
After successful achievement of the assignments the formal exam can be taken.
Participants will be provided with an online exam voucher to sit the exams at a time and date of their choosing within 3 months of the course. The web-proctored exams are available 24/7 and run by the examination institute PEOPLECERT.
*As of 01 February, 2022 paper-based exams will no longer be offered by PeopleCert the examination institute for ITIL®. All exams will be conducted online. During the course you will receive an exam voucher and instructions how to book the exam for a date and time of your choice within 3 months of the course. The exams are web-proctored by PeopleCert and are available 24/7.
The exam comprises:
Multiple choice examination questions
30 questions
21 marks required to pass (out of 30 available) - 70%
60 minutes duration
Closed book.
Pre-requisites
ITIL® 4 Foundation Certificate in IT Service Management OR
ITIL® 4 Managing Professional Transition Certificate